Course Description
Multiple Sources of Income Connect
Multiple Sources of Income Connect is a course run by Proctor Gallagher Institute, Dublin. It is a 'Online Learning' course . For more information about Multiple Sources of Income Connect at Proctor Gallagher Institute, please review the details below.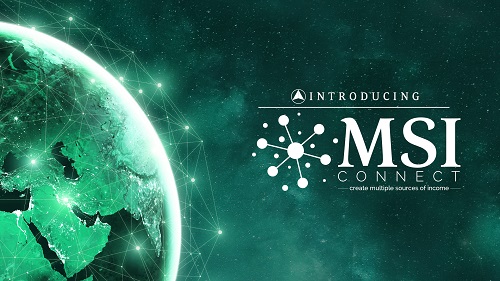 3% OF THE POPULATION MAKE 97% OF THE MONEY EARNED
These people are like you:
• growing their amazing businesses
• identifying opportunities to achieve wealth
• prioritising personal growth and development to create a better life
• best of all, they're looking for others to work with and share their success
One thing which makes these people different is having Multiple Sources of Income (MSI).
MSI is like diversifying your investments. When one income stream slows down others are making up for it, when they're all flowing you make lots of money.
Virtually all wealthy people have several little passive 'streams' of income coming in that eventually build into a 'river' of wealth.
"Genius… is the capacity to see ten things where the ordinary man sees one".- Ezra Pound
Build your Multiple Sources of Income by connecting
Connect with people like you:
• people who create lasting wealth in all areas
• people who strive for continuous growth
• people who understand your drive and strengths
• people with Multiple Sources of Income
MSI Connect is for those who want to grow their business, productivity and effectiveness by networking and learning from like-minded people. This is an opportunity to launch, develop and strengthen your business. Imagine a dragon free dragon's den – where the default position is success, support, opportunities and learning to help you achieve your goals
This is an opportunity for you to create your own wealth
Great wealth doesn't come to those who are looking for a comfortable job in a secure firm.
Wealth will come to you when you explore the opportunities in front of you, learn from those who are successfully following that same path and make the most of the resources available to you.
MSI Connect is a global platform and community where individuals and businesses can connect and grow through meaningful and productive networking and masterminding with people that are on an equally exciting and forward-moving journey. The result is business growth, brand recognition and wealth-building made more accessible and faster than ever.
Imagine growing your business further and faster with this amazing network around you
"Poverty needs no plan. It needs no one to aid it, because it is bold and ruthless. Riches are shy and timid. They have to be 'attracted'." Napoleon Hill
SO, WHAT'S INCLUDED WITH MSI CONNECT?
Your own, hugely successful, network of like minded people supporting your growth, with:
• Valuable and long-lasting connections. This network of like-minded people will accelerate your growth to achieve your potential. Everyone here is part of the PGI network, looking for change and excited to make big things happen in their life and the world. These connections will support, encourage, prompt, collaborate and take your business forward.
• Continuous – unlimited – personal development. Wherever you are on your journey, there is always more to learn. MSI Connect has fantastic tools and resources which will push you further. There is exclusive Bob Proctor content, networking and masterminding at PGI events and the opportunity for feedback and advice to improve your skills.
• Personal brand building will gain you visibility with people who are actively growing, stretching and thinking big – people like you. Establishing your presence in a network looking to support the growth of your business will take you further.
• Lead generation and advancement with a searchable business page presenting your business effectively. You'll also have the opportunity to host events and webinars with access to other PGI group members.
The opportunities available through MSI Connect are not only for you, but other thought-leaders in your business. Build your team to greatness.
Find out more about MSI Connect here
MSI Connect provides a place for positive, successful individuals to connect, generating lasting wealth through Multiple Sources of Income through meaningful, productive networking and mastermind opportunities.
This is an opportunity to change your life – creating the future you want with an inspiring and supportive network alongside and behind you.
Membership in MSI Connect will help you launch and grow your ideas working with people within the PGI network – people like you. There's a whole world of people in this wonderful network eager to help each other, do business with one another and rise to new heights together.
Working with Bob Proctor has changed my life. If you want to find out more about me – Darren (coach and mentor), the Proctor Gallagher Institute or MSI Connect, get in touch or visit my website Become & Inspire. Connect, get in touch.
Through my work as a Proctor Gallagher consultant, I have committed to support the amazing work of Ireland's Children's Hospice LauraLynn. With every registration to the MSI Connect, we will help make more moments that matter for children and parents in Ireland. Thank you.
Growth only comes in the right environment – only by sowing the seed will you reap the rewards
The Multiple Sources of Income Connect course at Proctor Gallagher Institute is listed in Courses.ie's national courses finder.
For more information about Proctor Gallagher Institute, please visit our College page on
Courses.ie
by clicking
here
.
Course Provider
Ireland (Online Programme), Dublin, Republic of Ireland
Make Enquiry
Please insert your contact details and any additional information you require and we will forward your request to Proctor Gallagher Institute