Course Description
Fashion Design for Beginners (Tuesdays 7:30-9:30pm)
Fashion Design for Beginners (Tuesdays 7:30-9:30pm) is course run by Portmarnock Community School, Dublin. It is a 'Classroom Based' course with a duration of 10 weeks. For more information about Fashion Design for Beginners (Tuesdays 7:30-9:30pm) at Portmarnock Community School, please review the details below.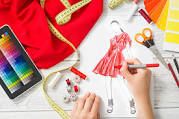 Pick up new skills and unleash your creativity with guidance from Fashion Designer Paul Alexander. It's all about personal growth in a fun environment at Project Fashion. Our aim on this workshop is to introduce students to the basic use of a sewing machine and to build their confidence to advance onto our more project based workshops. Classes are limited so early booking is essential! Use of machines are provided as part of the course price, however students are required to provide their own material for the production of the skirt / shirt. Class notes will be provided for each student. Also notes on current working designers will be handed out each week.
WEEK 1: A. Sewing machine Safety. B. How to thread your machine and wind a bobbin. C. How to change your needles and which needles to use for different fabrics. D. How to change the feet. E. A-Z of fabrics notes.
Week 2 : A. Sewing terms and tools. B. Get to know your machine parts and basic functions. C. Sewing using a the variety of machine stitches. Learning stitch length. Stitch Width, Stitch tension. D. Complete Project Fashion's sewing machine driving test. Corners, curved lines.
Week 3 : A. Introduction to the over locker. B. Produce the basic seams for all clothing production – over locked/run and fell/false run and fell/French/lingerie seam. c. How to do piped seams.
Week 4 : B. How to hem a garment. Blind hem and jean hem. C. How to bias bind your hems and make your own bias binding. D. How to make a simple pocket.
Week 5: A. How to produce a button stand. Produce buttonholes and sew on buttons. B. How to put in a normal zip/invisible zip. A. Make an appliqué using bonding web and the sewing machine.
From week 6 to week 10 you will learn how to design/cut a simple made to measure pattern and produce a circle skirt or a shirt. CIRCULAR SKIRT – Cut as two half circles or sometimes as one complete circle. Circular skirts are simple to make. The inside circle is stitched flat to the waistband, the folds flow smoothly over the hips offering fullness at the hem.
Week 6 Inspiration is: THE JUNGLE A. BRAINSTORM/WORDMAP/ B.Colour board /Mood boards C. FASHION DRAWING: D. STYLING: What will you wear with the skirt? E. Measure and cut your paper patterns.
Week 7 – 10 you will be guided through the construction of the skirt or shirt.
About the Tutor: Paul Alexander, after gaining his BA In Fashion & Textile design went on to become a finalist on TV3's 'STYLE WARS'. He ran his own clothing label called Paul Alexander and now owns Project Fashion (Fashion Academy)
Starts Tuesday 25th September. 2018 
The Fashion Design for Beginners (Tuesdays 7:30-9:30pm) course at Portmarnock Community School is listed in Courses.ie's national courses finder.
For more information about Portmarnock Community School, please visit our College page on
Courses.ie
by clicking
here
.
Course Provider
Carrickhill Road, Dublin, Ireland
Make Enquiry
Please insert your contact details and any additional information you require and we will forward your request to Portmarnock Community School